Down to the Banana Republics
Down to the tropical sun
Go the expatriated Americans
Hoping to find some fun
"Banana Republics"
Steve Goodman, Jim Rothermel, and Steve Burgh
Each Spring, the Atlanta Parrothead club sponsors a Parrothead cruise. It is open to Parrotheads from all over the country. And so it was that after a year of planning, on March 18, 2004 five of us set off from Wenatchee, Washington to venture down to the Banana Republics with 400 or so of our good friends and fellow Parrotheads. This was to be our fourth Parrothead cruise, and the best yet.
Living in the foothills of the Cascade mountains in Washington state has definite advantages, but proximity to Florida is not one of them, so just to be on the safe side and "allow plenty of time at the airport", as Mr. Ridge frequently reminds us, we left two days early to drive to Seattle and fly out. We had our little cooler with boat drinks, appropriate CD's for rolling sing-alongs, and enough luggage to make Imelda Marcos jealous. We also had "fun tickets in our pockets" and sufficient enthusiasm to fly to Ft. Lauderdale without the plane.
Twenty-two hours later we arrived at our destination: The Marina Marriott hotel in Ft. Lauderdale. This was to be the scene of the bon voyage bacchanal that afternoon and evening. On the way to our room with the mountain of aforementioned luggage, the first reunion with an old friend took place. Each year it is like a family reunion, only with family members that you actually like.
We napped a bit and awoke just in time to watch the berthing of the Cosmic Muffin, which had been brought in by Brent and Company for our enjoyment. Now, coming from the land of Boeing airplanes, I typically do not find aircraft, or more specifically, fuselages, to be a novelty. However, this one is truly unique: a Boeing Stratoliner which formerly belonged to Howard Hughes, but has now been converted to a houseboat/tourist attraction. And did I mention the window air-conditioning unit which hangs on the starboard side? So much for aerodynamics! But seriously, the Cosmic Muffin is way up there on the list of cool things to see. It was written about by Mr. Buffett himself in his book "Where is Joe Merchant?" as well as in his song "Desdemona's Building a Rocketship". It has also been featured on the Travel Channel. The interior is gorgeous and it is filled with memorabilia of a bygone era. Desdemona built herself a mighty fine rocketship.
Later in the evening we were treated to the music of the incomparable Jim Morris. If you've never seen Jim, by all means do so. He is a master singer-songwriter and storyteller with a whimsical wit that sneaks up on you. It was the perfect ending to a perfect first day of our adventure. We were all "livin' laid back and Key Wasted" by the end of the evening.
Saturday morning finally dawned, and it was time to head for our ship: The Carnival Legend. The Legend is one of Carnival's newer ships, having entered service in 2002. She is a beautiful ship, themed throughout with artwork and sculpture depicting the world's great myths and legends. She would be our floating palace for the next 8 days.
Upon embarkation, the Parrothead cruisers were invited to a private welcome aboard party during which they received their cruise credentials and goodie bag, chances to buy raffle tickets, and the opportunity to meet and greet friends old and new, or a chance to just sit down and chill now that the cruise had finally begun. Most of us had been planning for this since we stepped off the boat from last year's cruise, so there was a tremendous sense of euphoria in the air. Aided, of course, by the Drink of the Day! Actually, I only buy them for the souvenir cups. Even though I have about 40.
That evening after dinner, the Parrotheads rendezvoused for the first of two pub crawls. This is our means of familiarizing ourselves with that most important of amenities on board: the bars. It is also a method of alerting the staff and preparing them for the days to come. Not for amateurs, the pub crawls begin at around 10:00PM and go until, well, just until. The Carnival Legend has 16 bars on board: you can do the math. Even Parrotheads have to split them up over two nights.
Our second day was an at-sea day. One of the great things about these cruises is the mixture of "down time" and fascinating ports of call. There is plenty of time to lounge around the pool, read a book, party with friends, or just sit on your stateroom balcony and watch the flying fish. I have been asked "Don't you get bored being on a ship all week?" The answer to that is a resounding "NO!" There is plenty to do, or not do, as you wish! You can opt for the peace and quiet of your own cabin, or the fun and frolic of a pool deck, one of which is usually "Parrothead headquarters" where all sorts of mischief is known to transpire. We went to that pool deck and got our toenails painted. This is a cruise tradition: men and women alike get their toenails painted, with each toe being a different color. This year, the painting was done for a $1.00 contribution to the cruise charity, breast cancer research. More on that later.
The bulk of our morning was spent putting up our door decoration. Parrotheads decorate their cabin doors very elaborately, and there is a competition for the best in several categories. Here is a photo of ours: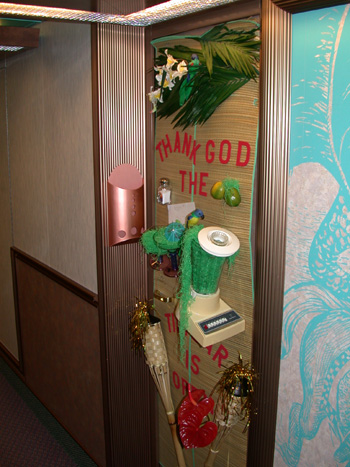 Dinner that evening was the first of two formal nights, preceded by the Captain's cocktail party. This is an opportunity for the Parrotheads to prove that they can clean up just as well as the next guy, even if we don't recognize each other in that state. For most of us, it is short-lived and we are back in our tank tops and flip flops shortly after dinner. Lest I forget, everything you have heard about the food on a cruise ship is true. It is delicious and available constantly and in copious quantities. Carnival offers their guests the option of eating in the formal dining room, where the food and service are usually impeccable, or choosing the more casual dining room where the food is more homestyle and you serve yourself, buffet style. Whichever you choose, rest assured you will not go hungry! For breakfast, there is the option of both of the dining areas as well as ordering a continental-style breakfast delivered to your cabin. You simply fill out the breakfast request card the night before and hang on your door, and voila! At the prescribed hour there is a knock and breakfast is served. It is wonderful to sit on your balcony and sip your morning coffee in the tropical breeze!
Monday morning found us in Belize. Belize is a relatively new tourist destination, having only begun to seriously promote itself within the last decade, and as such the areas which we visited were still delightfully unspoiled. There were a number of shore excursions offered here, both by the ship and those put together for Parrotheads exclusively. The main attraction for those with only one day to spend is diving and snorkeling in the crystal clear water. We opted for a snorkel trip to the Hol Chan Marine preserve, out on Belize's barrier reef. The weather was slightly uncooperative in the morning, when we had several brief but torrential downpours, as only the tropics can have! But the snorkeling was excellent, and hey, you were going to get wet anyway, weren't you? After snorkeling we headed into the town of San Pedro for a pre-arranged lunch and some time to shop and sightsee. San Pedro was extremely quaint. It reminded me of Mexico thirty years ago. We bought our Belikin beer and postcards, took pictures of the man with the baby raccoon in the basket on his bicycle, and reboarded our snorkel boat. We headed out to Caye Caulker, where we once again made a brief stop. Now, this place was Gilligan's Island. We stopped at a tin-roofed tiki bar and had more of the aforementioned Belikin beer before reboarding our boat for transfer back to the ship. Would I recommend Belize? Absolutely. It was beautiful and the people were friendly and accommodating. I can see it being one of those places that you should see NOW before it becomes overrun with the high-rises and tourist-trap atmosphere that plague much of Mexico and some other Caribbean destinations.
Monday night was the first of two concerts at sea put on for us by two Parrotheads favorites: Sunny Jim and A1A. We sang and danced our way into the wee hours, enjoying tunes from Jimmy Buffett as well as original songs composed and performed by these talented artists. What can I say, guitars and steel drums, boat drinks and good friends. That's about as good as it gets.
Tuesday was once again an at-sea day. We lounged by the pool, sipped our boat drinks, and worked on solving the tragic and mysterious kidnapping of Mona Bocachick, the "daughter" of two of our cruisers. Actually, Mona is a rubber chicken, but not just any rubber chicken. She has a distinctive voice, from which she received her name, and was elegantly dressed in flower leis and beads. She even had her own lanyard from her Parrothead club, Fins to the South. Ransom and reward notes were exchanged all week between the chickennappers and her distraught parents. I am pleased to report that Mona was returned, unharmed, on a serving platter at dinner later in the week.
Well, if it's Wednesday, this must be Costa Rica! Again, a great variety of shore excursions were offered, and some of our group opted to do "nothing at all" by way of going to a picturesque little beach and spending the day. Rough duty, but someone had to do it!! Others opted for the adventure of the zip-line canopy tour. We were picked up at the ship by small tour buses for a trip up the coastline. Given the fact that our bus was entirely Parrotheads, it's hard to say which was more fun: the canopy tour or the bus ride. We first made the guide stop for local beer, which he bought in copious quantities and served to us on the bus. We made one stop for a bio-break in a small town along the way which had a beautiful beach park. Then it was on to the jungle. Along the roadside, our guide pointed out howler monkeys and oropendula nests in the trees. When we arrived at the jungle resort, some of the group immediately did the zip line while others were treated to fresh tropical fruits and beverages while they waited. A word about the zip line: this is not for the faint of heart. You climb about 80 feet up into the tree canopy, where you are attached via a harness and carabiners to a steel cable. You then jump off platforms and slide down the cable to the next platform, ending at the beach after a total of 14 platforms. All agreed that it was a once-in-a-lifetime experience, but I'm not sure how eager they would be to do it again! The location was beautiful, however, and our guide was great. The establishment could have been a little better organized, but one needs to remember that this is the land of mañana and frame expectations accordingly.
Thursday morning we awoke in Panama. Most of our group had signed up here for a private party which was organized by two of our cruisers and their Panamanian family. We first boarded busses and toured the Panama Canal, where we watched as two ships were raised to the level of Gatun Lake. It truly gives one pause to see this marvel of engineering, especially when considering that it was constructed 100 years ago. No computers. No excavators. Just pencils, picks and shovels.
After the Canal visit, we were taken to the Hotel Melía Panama Canal. What an absolutely gorgeous spot! The hotel had the biggest swimming pool I have ever seen: bi-level with a waterfall connecting the two levels, and a swim-up bar. We were treated to traditional folkloric music and dancing by Panamanians in native costume, as well as an hors d'oeuvre buffet of native foods. Afterwards, our own Sunny Jim and A1A once again took center stage to sing us some Buffett. The perfect finishing touch. In the midst of all of this, one of the hotel security personnel found a three-toed sloth on the grounds which he picked up and brought for all of us to see. We were able to hold and pet it if we wished. It was a very gentle animal and did not seem to mind our interest in it. It behaved much like a cat when you scratched under its chin: eyes closed and head back. A totally unique experience! What a way to spend a day in Panama!
Thursday night. Thursday night! The night all past cruisers had been waiting for, because it was TOGA NIGHT!! This is an opportunity for Parrotheads to truly shine. We all dress up in togas-- most are definitely not the white bedsheet variety—and accessorize with beads, lights, hats, stuffed animals: you name it, someone is wearing it. After an hour of cocktails and hors d'oeuvres, we form a parade and march the length of the ship into the formal dining room. The looks on the faces of folks we pass and those unlucky enough not to be "Us" in the dining room are priceless. The grand finale to dinner is when "Fins" is played over the ship's sound system and we all stand up and sing, complete with actions, concert style. It always brings down the house!
Friday was again an at-sea day and the second formal night. I napped, read, wandered out to the pool for a while, and generally acted like I was on vacation. Before dinner that evening, the group all gathered in the Follies lounge for a group photo in our formal attire. After that, we had planned a special occasion dinner as a surprise for my in-laws who were traveling with us, to celebrate their 40th wedding anniversary. The dinner was held in the reservations-only supper club. A few of the Parrotheads were in attendance to help celebrate, and Sunny Jim sang two songs to my in-laws, personally. There wasn't a dry eye in the house! The food and service in the supper club are among the finest you will ever receive anywhere on land or at sea. It is well worth the additional charge ($25). Plan to have dinner there at least once!
After dinner we had another memorable evening with Sunny Jim and A1A entertaining us. These guys really worked their butts off to entertain us during the week. They were fantastic, both together and singly. I can't imagine a Parrothead cruise without our own entertainment. Dancing was the aerobic activity of choice that night!
Saturday was another at-sea day, and as always, the saddest day of the week. All of the door decorations come down, and you try to figure out how you ended up with so much more to take home than you brought with you-- "I told you to bring that extra collapsible bag!" "What do you mean you bought 10 bottles of duty-free liquor??" Our day was broken up, however, by a luncheon for Parrothead club leaders which was hosted by Brent Jr. and Kate and Jerry Kunert of the Coastal Jersey club. It was an opportunity for club officers to get together and discuss our successes and challenges and brainstorm new ideas. A great idea, and one which I hope will continue on future cruises.
Sunday morning we were in port before I was awake. Debarkation was the smoothest I have ever seen on any of my cruises, and we were out looking for our taxi by about 10:00 AM. Sobbing all the way.
I mentioned previously that our Parrothead cruises contribute to a designated charity: breast cancer research. This year, through the combination of raffles, auctions, toenail painting, and contributions from Brent and Stella Jones and Carnival Cruise Lines, the total raised was a whopping $20,775.00! What a great time for a great cause!
In closing, I can't say enough about Brent and Stella Jones, and Brent Jr. who put this on for us each year. With over 400 people to accommodate this year, I can't even imagine the logistics involved. But they come through year after year, flawlessly. I don't think I could ever cruise again without the Parrotheads. It is truly a more "splendid adventure" every year. I am waiting with baited breath to see where we are going in 2005, and to call Brent and say "Sign us up!"